Reviews:
Whether it is family gatherings, weddings, outdoor pursuits such as boating, pike fishing, golf or touring, Mount Cashel Lodge is the ideal retreat.
---
"Mount Cashel ....is so peaceful and was perfect for making day-trips from (including Knappogue Castle banquet!). We can't thank you enough for such a lovely visit."
Don & Chris
---
"We all had a great week at Mount Cashel.  Such a lovely place!"
Susan, Paul, Adam & Daniel, UK
---
"This property proved to be ideal for our family's vacation.  The units were spacious and very comfortable, the location was excellent, and the property was beautiful.  Between the lake and the trampoline and the donkeys and horse, my kids didn't want to leave. I would recommend this to anyone who is staying in the West of Ireland"
Richard, USA
---
"We knew the moment we arrived that we would all be sad to leave......The Stables were great and we had everything we wanted and needed.... I will remember this trip for the rest of my life"
Kelli-Chad Wedding Party
---
"After staying at Mount Cashel I fear we are now spoiled for staying anywhere in Ireland...if it doesn't have its own lake, cottage garden and Donkey it just won't do!"
Barreto Family
---
"C'etait magnifique. Un endroit idyllique et chaleureux. Nous reviendrous"
Monika
---
"Karly has fond memories of running and playing with Mack, visiting the tree house, exploring the grounds and doing all the other fun things that children enjoy in such a wonderful setting."
Pat, Lisa& Karly
---
"Your place is so beautiful and peaceful! From kayaking on the lake and sitting outside in the evenings, to feeding the donkey and playing with Mack, we thoroughly enjoyed our stay. Thanks for making us feel welcome and for providing everything we needed."
Robert, Cheryl & Brandon
---
"What a wonderful stay we had at Mt. Cashel Lodge. It was the highlight of our Irish trip this year. We enjoyed being able to relax and enjoy the Irish hospitality and countryside of Mt. Cashel Lodge. It was one of those rare cases where the accommodations were better than the pictures and description of the site. We enjoyed being able to do day trips to Limerick, Galway and the west coast but still be able to return and relax in a home-like environment."
Peter, Lynn, Kate & Thomas
---
"We would like to thank you for the wonderful stay at Mount Cashel. Our home away from home...we felt so comfortable.We will certainly recommend Mount Cashel to our friends and family. We felt that the location could not have been better to visit the area. You are one of "Ireland's treasures!."
Jos, Petra & David, Frank, Belgium
(New Year's Holidays
---
If you would like to add your comments or special memories to our review page please contact us at enquiries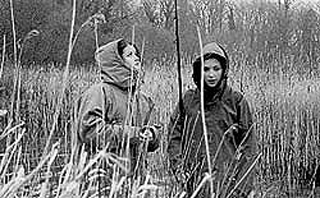 Phoebe & Chanelle wait for a light shower to pass!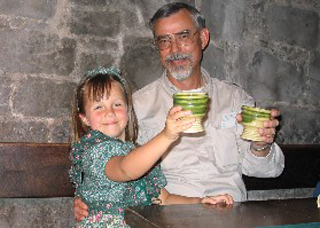 Karly and Pat.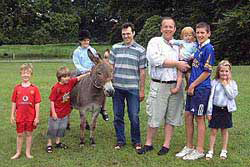 Johno the donkey makes lots of friends.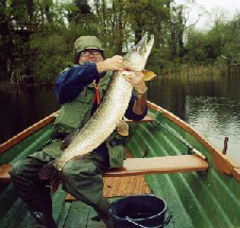 Rocky enjoying some serious pike fishing.
Pat & Annette Shanahan
Mount Cashel House
Kilmurry
Sixmilebridge
County Clare
Ireland
t: +353 61 369142
f: +353 61 713815
m: +353 87 2410090
e: enquiries